The Latino Cancer Institute is proud to announce that its Founder and CEO, Ysabel Duron, was honored with a Lifetime Achievement Award by the International Women's Media Foundation (IWMF).
Duron was one of six veteran journalists recognized as Founders at the annual Courage in Journalism Awards in New York, Oct 30th for their vision in launching the IWMF 30 years ago. Duron said, "I am the West Coaster – proud to be here with my colleagues and dear friends – congratulations to all. I'm gratified that the vision we seeded so long ago has borne fruit and continues to leave a legacy impacting women journalists around the globe."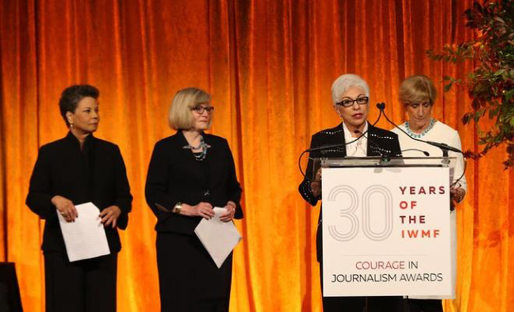 Duron served on the IWMF Board for 19 years. An award-winning journalist, she spent 43 years in TV news before leaving the industry in 2013 to focus on her commitment to addressing the cancer burden in the Latino community.
A cancer survivor, Duron said she used all her skill sets honed in broadcast news to turn the spotlight on the deadly disease that is the number one cause of Latino death nationwide. Her early mantra when she launched her first of three California based Latino cancer service agencies was talking about cancer won't kill us, the silence will.
Working across the cancer continuum, from prevention and screening, to diagnosis, survivorship and end of life, Duron drove education in the community, patient navigation in the cancer center and research collaboration across the country. In September, Duron officially launched The Latino Cancer Institute (TLCI), a national network of Latino cancer service agencies following two years of program development.
Duron's two decades of cancer work has earned her a national reputation as an expert in community engagement. She currently sits on the Institutional Review Board for the All of Us Research Program at the National Institutes of Health (NIH), President Barack Obama's Precision Medicine Initiative – one of the federal governments most ambitious national research projects – dedicated to recruit one million U.S. residents. Duron aims to make sure Latinos take part in providing health data that could help to address Latino cancer disparities and improve targeted care.
Duron's learned expertise as a journalist has informed much of her journey as a cancer advocate. The IWMF award is a wonderful finale to a distinguished career she concludes. Journalism she says is my passion, eliminating cancer in the Latino community is now my mission.